NOTICE: HELICOPTER OPERATIONS NOW IN PROGRESS
Telluride, Colorado (August 14, 2019)— Telluride Ski Resort will begin helicopter flight operations starting Monday, Aug. 19 through the month of September. Operational hours will be Monday through Friday, 6:30am to 6:00pm.
Helicopter will not operate during weekends.
Due to the flight path and project scope, certain trails will be closed. Trails include See Forever, Basin, Prospect Trail and Prospect Loop. The Gold Hill and Bear Creek launch is closed during operational hours 6:30AM – 6:00PM.
Hiking or vehicle traffic is not permitted during operational hours.
The helicopter operation is part of a Forest Health Mitigation project. The focus of the project is within the Lift 9 area. Trees will be flown via helicopter from the forest health mitigation units to a processing location in the Chair 10 area. Logging equipment and trucks will be moving through the resort in conjunction with the project.
Potential for severe turbulence and debris falling from the helicopter and its load is high.
___________________________________________________________________________________
Telluride Air Force (TAF) is the hang gliding and paragliding non-profit organization providing oversight and safety-focused regulation in Telluride, Colorado USA.
Telluride is a high altitude complex flying environment, In compliance with Federal Aviation Administration regulations, it is illegal/forbidden to fly above 17,999 ASL.  Visiting pilots require sponsoring and launch oversight by a "TAF Guide Pilot" no exceptions. Flying without authorization of the Telluride Air Force is a Misdemeanor punishable by a fine or imprisonment.
Use TAF Chat Box for all flight organizing, vehicles, meetups, guide status.
Use the What's App below for side Chitchat only.
2m FM transceiver frequency: 151.925
More info at Guidelines & Waivers.
Check out this excellent video from TAF Guide Pilot Dan Olsen. The soundtrack fits and says it all beautifully, not to mention the flying.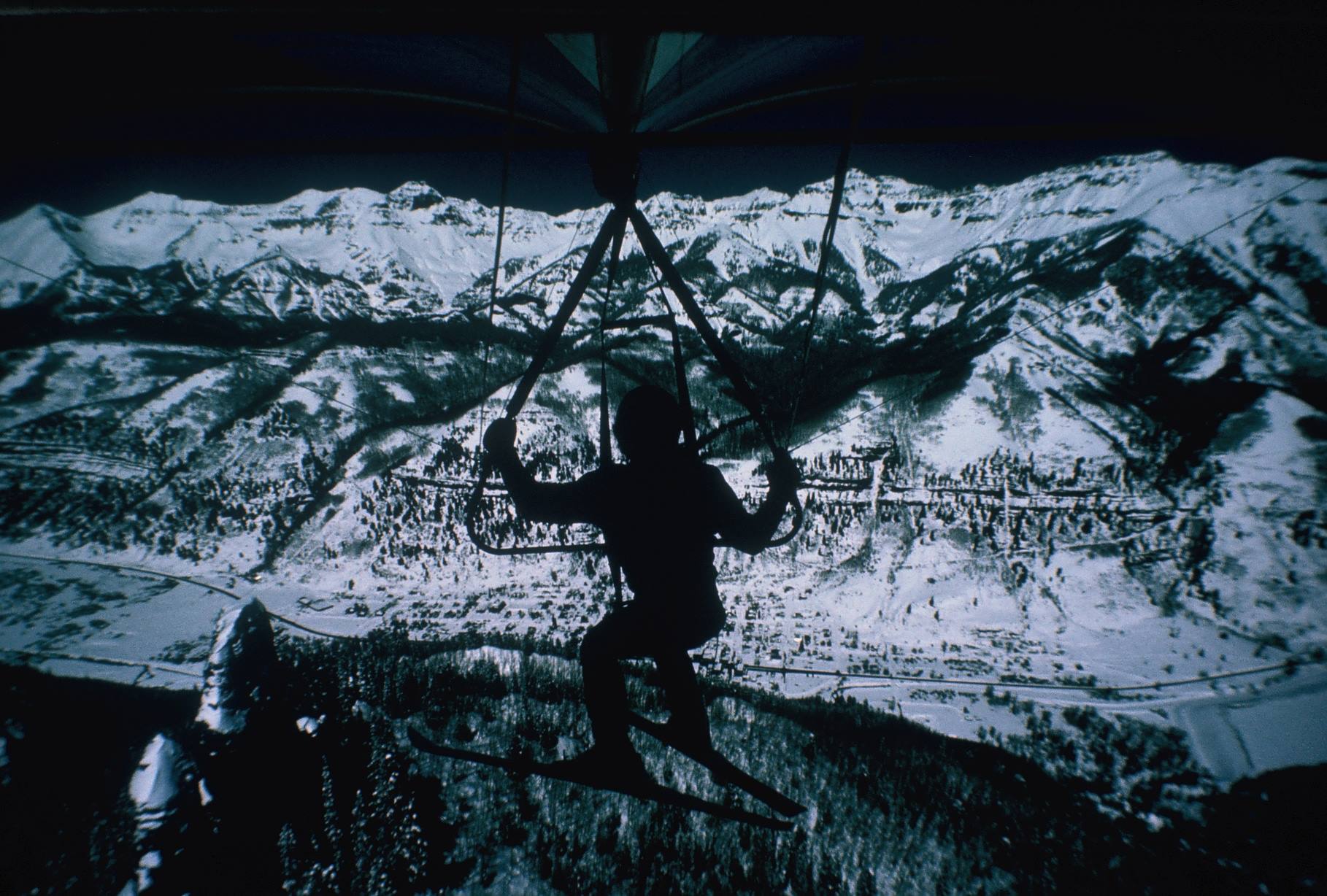 Clint Wolf sitting on a plastic swing seat, flying high and free above Telluride, circa 1974. Stories of Wild Blue days live on at the Stories menu and at FaceBook.
Telluride Air Force P.O. Box 3113,  Telluride, CO 81435  email: info@tellurideairforce.org
Share This: